W. Curt Hawkins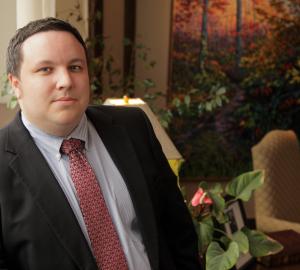 W. Curt Hawkins
Principal
870.336.8243
870.931.1800
wchawkins@wcjfirm.com
Curt Hawkins represents clients in the areas of estate planning, elder law, probate, taxation and commercial transactions. As part of his estate planning practice, Curt advises on planning opportunities regarding gift, estate and generation-skipping transfer taxes; lifetime transfers; and probate and trust administration.
In addition to advice and planning, he drafts wills, trusts, powers of attorney and family transfer documents. His tax practice includes representation before the IRS in tax controversies, as well as general tax planning. He has assisted clients in the formation of commercial entities, including limited liability companies, corporations and tax-exempt/charitable organizations. 
Curt has presented several seminars in the Jonesboro area, including an introductory course on trusts, the new Affordable Care Act and training for financial institutions on Powers of Attorney.
Education
Curt obtained his bachelor's in literature from Lyon College in Batesville, where he received the Sigma Tau Delta Writer of the Year Award. He received his J.D., with honors, from St. Thomas University School of Law in Miami, Florida.
At St. Thomas, he was a member of the Intercultural Human Rights Law Review, worked as a student instructor of property law and supervised the Miami Gardens' Volunteer Income Tax Assistance (VITA) program.
Curt furthered his legal education at New York University, where he received his Master of Laws in Taxation. While obtaining this degree, he focused on the areas of estate, trust and corporate taxation.
Practice Areas
Taxation
Estate Planning
Wills and Trusts
Probate
Business Law
Commercial Transactions
Guardianships
Non-profits
Court Admissions
Arkansas, 2010
United States Tax Court
Education
New York University School of Law
New York, New York
LL.M., 2010
St Thomas University School of Law
Miami, Florida
J.D., 2009
Lyon College, Batesville, Arkansas
B.A., Literature, 2006
Published Works and Presentations
June 26, 2013: National Business Instititute, "Trusts 101"
June 24, 2014: National Business Institute, "Probate Process from A to Z"
June 27, 2014: Ark Bar., Best of CLE, "Introduction to the Affordable Care Act"
March 20, 2015: Ark. Bar., 2014-2015 Elder Law, "Wills & Trust," "Asset Protection Planning," and "How to Plan for and Deal With Incapacity"
May 15, 2015: National Business Institute, "Trusts 101"
May 29, 2015: Craighead County Bar Association, "Establishing Incapacity for Legal Purposes"
September 9, 2015: Community Presentation, "Elder Care Planning"
October 2, 2015: Ark. Bar., Hot Legal Topics, "Updated Status of Dower/Curtesy Right in Estate Planning"
May 21, 2016: National Business Institute, "Estate Administration From Start to Finish"
June 29, 2016: Ark. Bar., Best of CLE, "Asset Protection Estate Planning"
Professional Associations
American Bar Association,
2010 - Present
Arkansas Bar Association,
2010 - Present
Craighead County Bar Association,
2010 - Present
Community Involvement
St. Bernards Healthcare,
Ethics Committee/St. Bernards Advocates
United Way of Northeast Arkansas,
Regional Impact Committee/Schuchardt Race Committee
Craighead County Jonesboro Public Library,
Board of Directors
Familie Tiez,
Chairman of Board of Directors
Arkansas Children's Hospital,
Chairman for NEA Professional Advisory Council
Lyon College, Batesville, Arkansas,
Alumnus Advisor to Kappa Sigma Fraternity
Food Bank of NEA,
Senior Pack Program - Food Delivery
Honors & Awards
Legal Aid of Arkansas - Volunteer Attorney of the Year, 2014
Individual Practice Areas